"HOPEFULL EYES" project from EUL students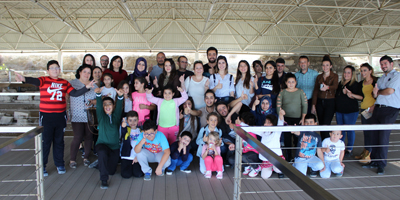 European University of Lefke (EUL) Dr. Fazıl Küçük Education Faculty Guidance and Psychological Counselling senior students have organized the "HOPEFULL EYES" Project under the course entitled "Community Services Practices", via the leading support of the Member of the Faculty Assist. Prof. Dr. Anıl Sayılır. In the project realized with the cooperation of Kemal Saraçoğlu Foundation for Children with Leukemia, there was an active an interactive time was spent with the children with leukemia.
Students who organize various projects every week in the course of "Community Services Practices" have met with leukemic children and made social and cultural studies with "HOPE EYES" project. The children and their families who participated in the event, which started with lunch, then visited the Soli Ruins. After the cultural and historical tour, children who were brought to EUL Cinema Hall to watch a cartoon film.
The important thing is to provide social awareness and personal development
Emphasizing the importance of social awareness and personal development, Sayılır emphasized that it is necessary to meet the needs of society and to be active in life outside the school. Sayılır stated that the teachers' grievance is not only to do lessons in school, but also to provide collective services and to carry out various studies in order to create social awareness. Sayılır expressed that such projects will continue and students will sign new projects related to different subjects. It is important to note that the "HOPEFULL EYES" project is only one of a large number of initiatives initiated to support various foundations and that social activities such as excursions and picnics and their personal development are important in ensuring social development, emphasizing the importance of socializing children, Sayılır said.
Children left happy from EUL
The children, who stated that they had a lot of fun touring historical and cultural places in the event, thanked everyone who organized the event by saying that they have been in different environments during the weekend and they are happy to have had a good time.