"Is less more?" themed interview took place at EUL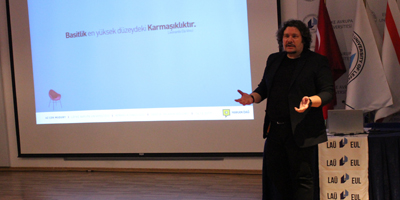 "Is less more?" themed interview organized by EUL Faculty of Architecture Department of Graphic Design took place at EUL. Graphic Designer Hakan Dağ who has put signature to many successes in his field, attended the interview as a speaker.
In the interview organized for the students of Graphic Design Department, the subjects such as what will students of Graphic Design do in the future, what might they need in the design process, how they perceive the concept of design and in which positions they can work in depth were discussed.
In the interview in which the other design department students who will continue to work in the field of design attended, it was discussed that designers in different disciplines can work together today.
Dağ said that "In order to possess the knowledge of less, one should possess the knowledge of more," and added that, "Never forget that everything you do is an accumulation of experience, determine your own needs and style, never forget your pen paper and take notes in your mind, get rid of any excesses, learn to spend time with yourself and ask questions even if there is no answer, realize that time does not proceed but it is fluid in itself,".
Dağ, interpreted the concept of "Is less more" via works of well-known different designers, and his own works, and explained the relation of the concept with design. Sharing his knowledge and experiences with young designer candidates, Dağ stated that the students were able to match the concept discussed in their own design processes in line with the comments they had made, and added that this was a guiding practice for them.