"Justice for Women" panel organized at EUL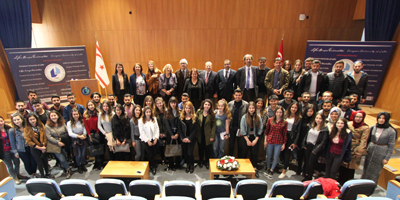 "Justice for Women" panel organized by the European University of Lefke (EUL) Faculty of Law.
The panel which was realized in European University of Lefke (EUL) The Great Amphitheater Conference Hall was moderated by the member of European University of Lefke Law Faculty Prof. Dr. Haluk Günuğur.  Günuğur has initiated the panel by stressing that "Women are representatives of Justice".
Panelist, Vice President of Bar Association of Turkey Attorney Berra Besler made a presentation on "The Place of Women in Politics and Society". Besler shared the results of the World Economic Forum's 2016 Global Gender Abundance Report, Economic Development and Cooperation Organization reports with attendees, and gave information on women's rights in Anatolia given to women since the years of the War of Independence and the laws issued and the rights granted to women.
Okan University Faculty of Law Professor, Pervin Somer, who gave a presentation on "Female in the male dominated world", emphasized the place of the working women in society and expressed that the expression "Unemployment does not happen if the woman does not work" is wrong. Stating that women who work according to the statistics and bring money home are experiencing violence from men, Somer said that the women who experiences violence tries to make this behavior seem reasonable.
Professor of Forensic Medicine, Istanbul University, Çapa Medical Faculty Dr. Nevzat Alkan gave examples by stating that the types of violence were examined in four categories, economic, psychological, physical and sexual, in his presentation titled "Violence applied by men to women in the world and Turkey".
Istanbul Bar Association Board Member Treasurer Aydeniz Alisbah Tuskan said in her presentation titled "The Role of Women in the Gender Society and the Role of the Istanbul Bar in the Access to Justice for Women", that the woman is different and very special with her fertility. Tuskan, however, noted that throughout history women were despised, crushed, exploited, and exploited for sexual identity despite this superior trait.
Gülçin Çam, the member of the EUL Law Faculty, described mobbing as a psychological terrorism systematically applied by one or more people to another person in a hostile and immoral way. In her presentation, Çam delivered detailed information about the characteristics of the people causing mobbing, the behaviors and types of mobbing.
After the panel, following the question and answer session, Professor of Law at EUL Faculty of Law. Dr. Nuri Erişgin distributed plaque of appreciation to the speakers.