Marketing of Domestic Products discussed at EUL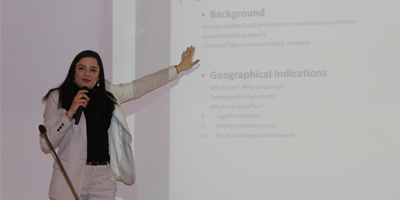 Mahrum approached the concept of Marketing Halloumi as a Domestic Product 
European University of Lefke (EUL) Faculty of Economic and Administrative Sciences Department of Business organized a conference themed "Marketing of Traditional Domestic Products". Deputy General Secretary of Turkish Cypriot Chamber of Commerce and Business Development Expert Leyla Mahrum attended the conference as a speaker.
In her speech, Mahrum shared how can the Geographical Mark which they have been working on lately as the Turkish Cypriot Chamber of Commerce can be used as a tool of competition with some examples from abroad and informed the students of the applications held especially in relation to the marketing of halloumi in the T.R.N.C.
Mahrum: The purchasing power of differentiated products is high
In the conference, Mahrum conveyed theoretical information on how the small scale producers can differentiate in the international market, how to find niche markets, which products can be handled as niche products, accordingly what are the organic or special products and how can countries who have small scale economy such as the T.R.N.C can compete with counties who have big scale economies. Giving international examples from rice, honey and cheese production, Mahrum said that the price of Jasmine type of rice is 5-10 TL in the market but in case of producing the organic or special type of this rice, it can be sold 2 or 3 times more expensive in the market and added that honey production is also applicable to this example. Mahrum stated that China is the leading country in the production of honey with producing annually 446.000 tons and she further explained how T.R.N.C which has annually 332 tons of honey production can compete with such country. She further continued that at this point, the only way to compete is to market the differentiated products at much higher prices, which can be provided by endemic plant extracts and local bee species. Mahrum also added that such differentiated products can be sold at very high prices in markets with high purchasing power and in the markets which are in pursuit of special products that cannot be found anywhere.
Mahrum Products in different countries can find serious marketing opportunities thanks to the geographical mark         
Touching upon the importance of geographical mark as an important way of differentiating domestic products, Mahrum explained what is a geographical mark, how can it be obtained, how is it certified, what kind of products can be marked as a geographical, and what are the advantages of geographical mark in the international competition. Mahrum gave champagne and Parmigiano Reggiano as an example and said that Parmigiano cheese, which is produced with bacteria that can be found only in that region, especially in a certain geographical area, is sold 10 times more expensive than similar cheeses and it is very popular in the world. At this point Mahrum explained the endeavors held about the local cheese of the TRNC in terms of geographic mark and marketing it as a domestic product and added that products in different countries with similar features could find serious marketing opportunities thanks to the geographical sign.
The conference, which attracted a great deal of interest from EUL students, ended after Mahrum answered questions from students.