More Example Projects from EUL Students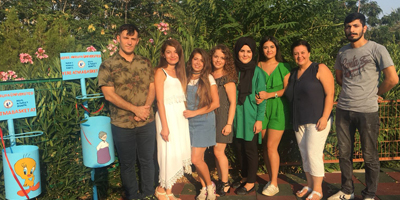 Students of European University of Lefke (EUL) Dr. Fazıl Küçük Faculty of Education are continuing to conduct successful social responsibility projects within the scope of their Community Service Practices course and with the leadership of their course instructor Assist. Prof. Dr. Özcan Palavan.
Giving information about the projects of the students, Palavan said that, in the project titled "Listen to the Walls" the students of EUL did paint work on the walls of Güzelyurt Özgürlük Primary School with the principle of "a child changes, the world changes". Palavan pointed out that, apart from the painting project which was conducted with the aim of attracting attention to the importance of encouraging creativity of primary school students, the students also made creative works of art. Palavan stated that these works of art include decorations obtained from waste materials and added that by this means the students demonstrated how can materials that are not biosoluble can be used.
Palavan stated that, in the project titled "Our Loyal Friends", the students took care of the stray animals and added that the project was conducted with the aim of slaking the stray animals in these days which is extremely hot. Palavan pointed out that the students prepared watering and feeding apparatus from plastic pipes used in infrastructure works and placed these to the different parts of the region with the slogan "Give a pot of water to strays".
Palavan stated that, together with the Head of Pre-School Teaching Department Assist. Prof.Dr. Çağda Kıvanç Çağanağa they have observed the previous social responsibility of the students titled "Clean Environment Clean World", "One Flower One Human" and "Colorful Stations" on site and thanked those who have contributed to these projects.