"Nature Ergonomy and Nursing Care" themed panel held at EUL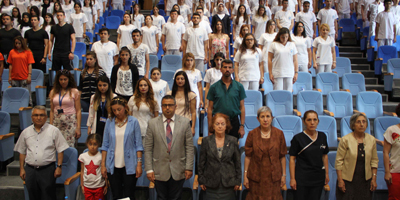 In the panel organized by European University of Lefke Health Faculty, "Nature Ergonomy and Nursing Care" were discussed. Abant İzzet Baysal University, Bolu Helth Faculty Nursing Care Department, Nursing Care of Surgical Academic Assoc. Prof. Arzu İlçe made a presentation at the panel.
Before the panel the students who ranked among the top at "Nature Photography Contest" and "1st Traditional Volleyball and Football Tournament" received their rewards and EUL Heath Faculty academic Prof. Dr. Sevgi Hatipoğlu presented a plaquet to Combatant Nurse Emel Akgönül for her services especially during the war times.
İlçe: Ergonmy is a discipline related with welfare
In the panel various visuals took place, which was  directed by Health Faculty,  the Chief of Health Management Assist. Prof. Dr. Özhan Öztuğ. İlçe who attended the panel as a speaker started her presentation with explaining Ergonomy as; making labour, devices and environment compatible with human beings. Within her presentation İlçe said, "Since it is not possible to chance human beings, labour, devices and the environment they should be changed and by doing so we can achieve safe standards which has positive effect on human health both physiological and psychosocial". İlçe pointed out that Ergonomy is a discipline related with welfare and said that the importance of natural environments for a healthy life is part of ergonomies applications and nature is a great example for ergonomic knowledge practices.
İlçe: In our country Ergonomy is only considered for factory and machine workers.
İlçe explained nature and design examples in company with visual presentations and listed ergonomies field of applications as; anatomy, anthropometry, industry, security, military and system engineering, orthopaedics, biomechanics, bioengineering, work physiology, physiology, nurse caring, industrial hygiene, medical, psychology, sociology and computer-aided design. İlçe said that "In our country Ergonomy is only considered for factory and machine workers. But every occupation, every production filed poses several risks." and expressed that heath sector ranks 2nd among the nonfatal occupational-work accident among other sectors.
İlçe pointed out that the ergonomic evaluation of the working environment can be measured mostly by work-related musculoskeletal disorders. İlçe pointed out the need for establishment of an ergonomic patient care system in the hospital environment compatible with physical, social and psychological characteristics in order to increase the life quality of patients and health care workers, quality assurance related to human factors, and improvement of sociology and communication sciences in harmony with the health system.
At the end of the panel EUL Health Faculty Dean Prof Dr. Deniz Şelimen presented a certificate of participation to İlçe.