New Students of EUL will get to know Cyprus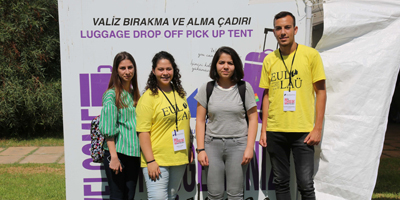 Orientation Days organized for the newly enrolled students in the 2019-2020 Academic Year by the European University of Lefke (EUL) Centre of Social and Cultural Activities has started. The students were met by EUL Orientation Team from Ercan Airport and placed in their dormitories.
Many different activities will be held for new students coming to EUL
Within the scope of the 2019-2020 Academic Year Orientation Program, there will be many cultural and sporting activities that will facilitate the adaptation of new students from different countries to the university and the TRNC, which will enable them to recognize the units of the university.
Students will have the opportunity to get to know the area along with guides
Information is provided to newly arrived students at 3 different stations established on campus, and advisory services are provided for students to complete their registration procedures easily. Within the scope of the trip programs organized for the students, the students who will visit Lefke region with guidance will have the opportunity to get information about the historical, natural and cultural places of Lefke. In the trip programs that will continue with the capital Nicosia and Kyrenia region which attracts attention with its touristic beauties, students will have the opportunity to see many cultural riches in place and to know the environment.
Students from different cultures will come together at Cyprus and International Culture Night which will be organized within the framework of the orientation program that will include many activities.