Novelty in Contact Lenses: "Change Your Point of View" themed conference held at EUL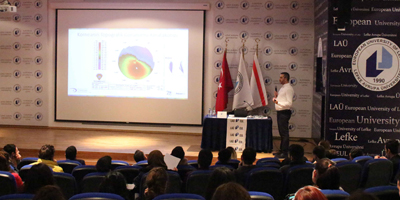 ALCON Regional Director Emre Özen attended the conference themed Novelty in Contact Lenses: "Change Your Point of View" which was organized by European University of Lefke (EUL) Vocational School of Health Services.
Pointing out that the structure of cornea has layers, Özen gave detailed information about sleeping with lenses, when to use lenses, possible problems about lenses and what to when someone encounters a problem about lenses.
Özen gave information about the usage of lenses
Özen said that detailed instructions on fitting and removing contact lenses should be given by the ophthalmologist and listed these directions as; before touching your lenses, always wash and dry your hands. Shake the blister package gently before opening. Strip open the foil cover. Pour the lens into your palm with the solution in the package, or gently remove the lens from the container using your index finger if necessary. Make sure that the lens is not turned upside down and that you have the appropriate lens. You will notice that the color print on the lens is closer to the inside of the lens than to the outside of the lens. Use this information to determine which side of the lens is the inside (side that touches the eye). Inspect the lens before attaching it, do not use it if it is damaged. Make sure that your hands are completely dry while you remove the lens. Slide the lens downward, toward the white part of your eye, while looking upwards after blinking your eyes several times. Gently squeeze the lens with your thumb and index finger. If you have difficulty removing the lens, do not compress the eye. Try again with a drop of lubricant and moisturizer. Never use tweezers, vacuum, sharp objects or fingernails to remove the lenses from the lens package or from your eye.
Özen listed the maintenance of the lenses as follows:
It is very important to maintain lenses properly.
Disinfect each time you remove your lenses to kill harmful micros and ensure safe and comfortable contact lens use.
A separate cleaning and rinsing step may be recommended by your ophthalmologist to remove dirt from the lens surface. In addition, your lenses may require periodic enzymatic cleansing to remove proteins. Lubricants and moisturizing drops should be used.
Consult your ophthalmologist before using alternative lens care products
Do not use or mix the lens care products of different systems.
Use soft contact lens care products only in accordance with the manufacturer's instructions.
Özen listed the conditions in which the lenses should not be used as follows;
Contact lenses should not be used in certain health and environment related situations. Situations that prevent or influence the use of safe contact lenses are:
When there is allergy, inflammation, infection or irritation in the eyes or eyelids,
Sickness times such as severe colds or influenza,
When using medications, including ophthalmic drugs,
Inadequate tear (xerophthalmia)
excessively dry or dusty environments, which will negatively affect the use of contact lenses
In water sports without safety goggles.
Consult your ophthalmologist about these or other conditions.
Possible Problems;
Soft contact lenses can cause problems even if it has many benefits. In such case the user may first notice the following symptoms or indications:
Feeling an object in the eye,
Being uncomfortable with the lens,
Red eye,
Sensitivity lo light,
Burning, stinging, itching or irritation in eyes
Decrease in visual acuity,
Rainbows or halos around lights
Increase in eye fluids
Discomfort/pain
Severe and persistent eye strain
If neglected, these symptoms may lead to more serious complications.