Omaç Başat Seniors League table tennis competitions took place in EUL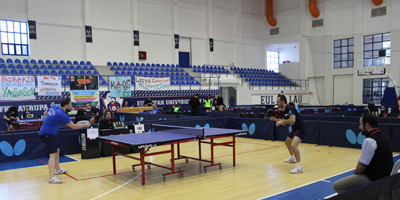 The 10th and 11th leg matches of the Omaç Başat Seniors League competitions, organized by the North Cyprus Table Tennis Federation, were hosted by European University of Lefke (EUL).
Uğur Beşok, a member of the Board of Directors who participated in the opening of the competitions on behalf of the Turkish Table Tennis Federation, thanked especially to the Rector of European University of Lefke Prof. Dr. Mehmet Ali Yükselen, The Official of the Sports Club İbrahim Bay, The Coach of Table Tennis Aşkın Demiray for their contributions on the realization of the competitions, on behalf of the Turkish Table Tennis Federation, while wishing the best of luck to the athletes.
At the competitions organized at EUL Sports Facilities, 9 teams in senior men and 5 teams in senior ladies have competed. Out of two champion candidates EUL and Near East University, EUL was the winner of the competition with a 4-3 score. The second major game of the day was played between EUL and Girne American University and the match ended with GAU's 4-2 win.