On the Occasion of "National Struggle and Martyrs Memorial Week" our Martyrs were memorized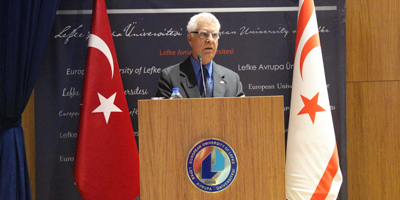 A Conference themed "Legendary Flag-Bearer of TMT: Kenan Çoygun" and an exhibition themed "These days were not accomplished easily" held at EUL
European University of Lefke (EUL) Faculty of Arts and Sciences Departments of History and Turkish Language and Literature organized a conference themed  "Legendary Flag-Bearer of TMT: Kenan Çoygun" on the Occasion of "National Struggle and Martyrs Memorial Week". Turkish Resilience Organization (TMT) Vice President Celal Bayar attended the conference as a speaker.
The conference started with the National Anthem and the speech of Head of the EUL Department of History Assoc. Prof. Dr. İhsan Tayhani. Tayhani said that "We are on the 55th anniversary of the events of 21 December 1963, when EOKA introduced the Akritas Plan for ethnic cleansing aimed at Turkish Cypriots", and added that 21 December 1963 is an extremely important date in the existence struggle of the Turkish Cypriots. Tayhani also said that "We once again record those who commit these crimes against humanity 55 years ago in Cyprus to the pages of history, remember all our martyrs with gratitude, and we are leaning with respect in front of our surviving veterans".
Bayar: After the Local Defense Organizations TMT was established
Bayar said that "55 years ago, on December 21, 1963, Greek Cypriots and Greece implemented the Akritas Plan, which they had previously prepared for ENOSIS, and was the plan of annihilation of the Turks. This plan is was genocide plan and the aim was to destroy the Turks. This is also called 'Bloody Christmas in the history" and added that Turkish Cypriots could not stay unresponsive to the attacks of the Greeks and to the EOKA and started to the movements of resilience. Pointing out that after the local defense organizations TMT was established on August 1, 1958, Bayar said that there were 6 flags based in Nicosia, Famagusta, Limassol, Larnaca, Paphos, and Lefke.
Bayar: Kenan Çoygun is a hero who has shaped myths
Bayar said that "Here we see the commander of TMT who has written his name to the history of Turkish Cypriot's existence struggle as a legendary flag bearer and an outstanding commander Kenan Çoygun" and gave detailed information on the background of Kenan Çoygun. He further stated that In July 1962, when 38 year old Lieutenant Colonel Kenan Çoygun was asked if he could work as a TMT leader in Cyprus, he accepted this duty for his homeland which would endanger his life without hesitation. Pointing out that Kenan Çoygun was a hero who has shaped myths as the leader of TMT, Bayar said that "Kenan Çoygun, with his military and political leadership skills, has brought the Turkish Cypriot people to a position of faith and stability in unprecedented cooperation and coordination and increased their resistance".
Bayar: Kenan Çoygun shared a destiny with us
Pointing out that Kenan Çoygun didn't leave the Cyprus for 5 years starting from the date that he came to the island, Bayar said that "Kenan Çoygun shared a destiny with us" Bayar further stated that Çoygun was the Head of Staff and Chief of Staff of the 15th Corps Headquarters and in 1969, he was promoted to the rank of Brigadier General and served as the 70th Head of Infantry Brigade and Head of the Department of Land Forces Schools and was retired in August 30 1973. Bayar finally said that "After retirement, he has always been with us. We have often been together after 1974. Both he and his family have always been one of us. He never said I, but always said we", and added that Retired Brigadier General Kenan Çoygun passed away on October 12 2005 in Ankara.
An exhibition themed "These days were not accomplished easily" located at the ground floor of the Rauf Raif Denktaş Education Complex was also visited by the guests.