Pakistan Culture Night held at EUL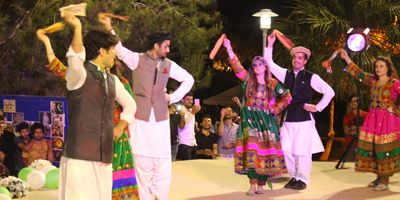 Pakistani students studying at European University of Lefke came together at the Pakistan Culture Night. Staff of EUL Office of Students' Dean and International Office and students attended the event named "Pakistan Culture Night" which was organized by EUL Office of Students' Dean.
Under the framework of the event which was held at EUL Plaza with intense participation, introduction video about the tourism, culture, cuisine, national days and economy of Pakistan was illustrated. Dance shows accompanied with the cultural music of Pakistan and music recitals gained the appreciation of the student of EUL.
Pakistan Culture Night which was held with the intense participation of students from other countries concluded with serving of a cake prepared special for the night.