Panel on "Evaluation of Patients' Rights in TR and TRNC" organized in EUL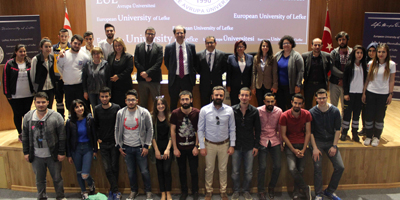 A panel titled "Evaluation of Patient Rights in the TR and TRNC" was held by European University of Lefke (EUL) Health Services Vocational School and Law Faculty.
The moderator of the panel, which took place at EUL Faculty of Law Great Amphitheater Conference Hall, was the Dean of Faculty of Law Prof. Dr. Nuri Erişgen. TRNC Universal Patient Rights Association President Emete Imge, Eastern Mediterranean University Faculty Member Assist. Prof. Dr. Nurcan Gündüz, Adv. Şefik Aşçıoğulları, Istanbul University, Çapa Faculty of Medicine Professor. Dr. Nevzat Alkan participated as speakers.
When it comes to patient rights, Erişgin stated that rights such as good practice, information, treatment and choice of physician, informed consent, protection of personal data are to be emphasized. At the meeting, Erişgin said that the responsibilities of health personnel as well as patient rights will be brought to the agenda; Erişgin stressed that future medical staff will understand that they should do their professional activities by evaluating their own responsibilities as well as patient rights.
Patient rights are addressed through various perspectives
In his presentation titled "Patient Rights in the TRNC", İmge emphasized how patient rights are taken in politics, that 39 governments were established in 42 years after the 1974 campaign, 41 health ministers had held offices, and only one of them was a woman. Speaking of all patient rights from 1975 to 2015, İmge said that the "Patient's Voice" project launched last year as the Universal Patient Rights Association was successfully carried out. The purpose of this project is to protect the citizens' personalities in honor and bodily integrity in accordance with basic human rights .
Aşçıoğulları, who stated that there are two legal regulations when the judicial system is examined in the TRNC with respect to applied patient rights, by giving information about these legal arrangements, it is stated that the first law is the Public Health Workers Act and that the main objective of this law is; The doctors working in the public are also concerned with patient rights, even though there is a law regulating the personal rights of health workers. Aşçıoğulları stated that the second law is the Legal Legislation of the Turkish Cypriot Association and that specific regulations on patient rights are included when this legislation is considered.
Gündüz stated that three basic factors come to mind in terms of physician's responsibility; Legal responsibility, physician's responsibility and criminal responsibility, and gave detailed information about these responsibilities.
Alkan stated that he was involved in the forensic medicine section of the "Assessment of Patient Rights in the TR and TRNC" and stated that there was a wrong incident as if there was a case against the health worker when the patient's right was called. "Everyone can not be a health worker, but everybody can be sick," he said, pointing out that each patient had the right and desire to get a good healthcare service and expressed that they are considering it as a misbehavior of tibbi in the event of a disturbance at this stage.
In the question and discussion section, the panelists expressed their views on euthanasia, patient-physician, patient-other health personnel and physician-other health personnel relations and legal issues arising from these relationships, especially about the authority, duties and responsibilities of health workers in medical application mistakes.
At the end of the panel, Prof. Dr. Nuri Erişgin and Vice Director of Health Services Vocational School Assist. Prof. Dr. Meltem Uçar presented a certificate of appreciation to the speakers.