Realistic First-Aid Simulation held in EUL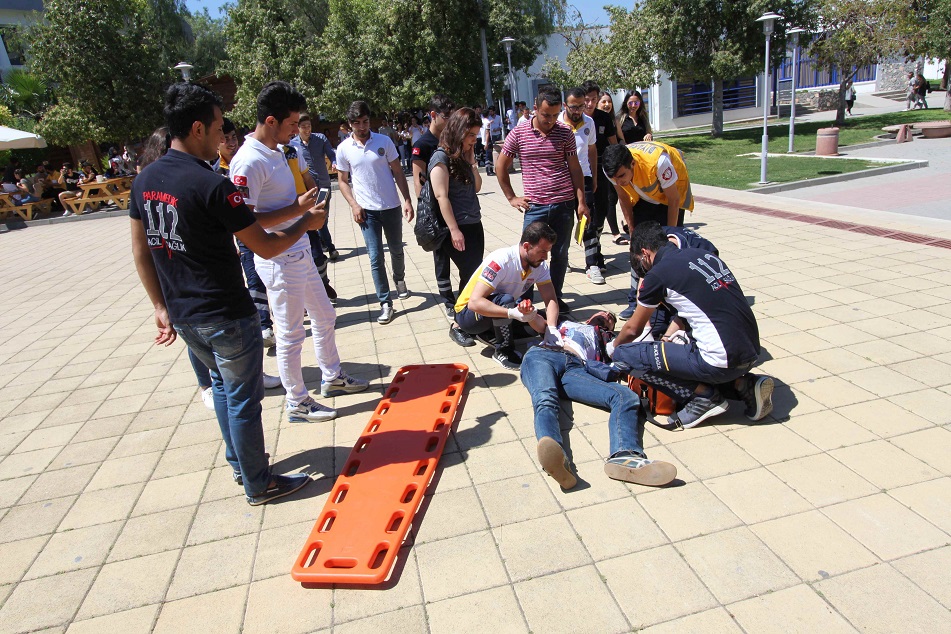 "Emergency Intervention Revitalization and Simulation Activity" was carried out by Lefke European University (EUL) Health Services Vocational School in order to display the knowledge and skills developed by the First and Emergency Aid Department students in relation to emergency response and rescue during training.
"The Director of the Vocational School of Health Services Assist. Prof. Dr. Meltem Uçar, Assist. Prof. Dr. Hacer Gönül Demir and students of Department of First and Emergency Aid attended the event that took place at EUL Plaza Area. Realistic make-up and emergency equipment were used for patient/injuries according to simulation technic during the animating.
The first intervention was for a severely haemorrhagic patient who was injured in a fight which started with call for help of a girl whose bag was stolen. In the intervention, the patient / wound was evaluated for the second time and the haemorrhage was stopped later on the patient was taken to the ambulance with a spine board which was intravenous fluids and stabilized. Afterwards, a person whose respiratory and circulatory system stopped was return to consciousness with advanced life support. Model was used as a patient/injured for this vitalization and, intubation, defibrillation, basic life support, intravenous were also implemented on the model. In the third case, a car accident was animated. The patient / wounded who was injured and had extreme fracture after the accident was removed from the vehicle and assessed for a safe area in order to carry on fracture detection, intravenous administration and other interventions.
All students of the first and emergency aid attended the event and animations were watched by other students and faculty members. Students of Department of First and Emergency Aid found an opportunity to practise their knowledge and skills which they have learnt.