"Rise of Populism" discussed at EUL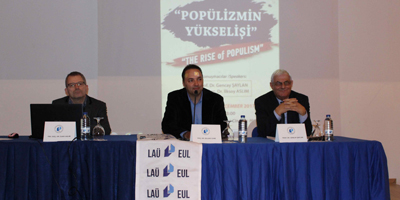 The subject of "Rise of Populism" was discussed at EUL by European University of Lefke Faculty of Economics & Administrative Sciences Department of Public Administration. In the meeting which took place with the leadership of EUL Academician Assoc. Prof. Dr. Bülent Evre, academicians of Economics & Administrative Sciences Faculty Prof. Dr. Gencay Şaylan and Assit. Prof. Dr. İlksoy Aslım made presentations related with the subject.
Pointing out the difficulty of describing a concept like populism which is uncertain, Evre said that "When we look at the literature, different writers, thinkers use the concept of populism in different ways. There are some who argue that populism is defined as ideology, form of discourse, political strategy, style, politics approach, and is used especially as a strategy to mobilize the people,". Evre stated that the rise of populism in a global scale appears in the reports prepared by many international organizations and international institutions and that this situation is considered as a dangerous process.
Şaylan; Populism is not a concept, it is a phenomenon
Şaylan said that, "I see populism as a phenomenon rather than a concept or ideology", and added that populism is a very old phenomenon which is a reaction to the process when the villagers were drawn away from the soil when the marketing relations began to dominate agriculture in the 16th and 17th centuries. Şaylan said that the populism word emerged as a political movement, lifestyle, influenced by developments in Russia, stemming from the transformation in the agriculture that took place before the industrial revolution.
Aslım pointed the common features of populism and states that first of these is a strong leadership oriented management style and a political coalition based on the lower segments of society. Aslım said that in populist rulings, mechanisms of institutionalized forms of political mediation, such as political parties and non-governmental organizations are neglected and the process of making top-down politics which is carried out more directly with the leader and the masses is applied.