Sinem Kobal came together with her fans at EUL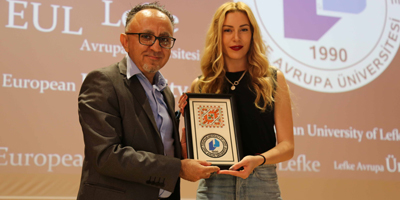 Sinem Kobal was hosted at EUL under the framework of European University of Lefke (EUL) spring interviews.
Kobal: The emotions that the series named Selena made me feel could not be described
In the interview which was held at the conference hall of Law Faculty, successful and popular actress Sinem Kobal said that "I started my career with series named Dadı at the age of 13, and Dadı had been on the screen for three years. That's why I grew up in front of the screen. Set was the place where played games, where I grew up and started my profession". Pointing out that later on she started with the other series titled Selena which was very special to her, Kobal said that "I realized it was very important to connect with the children in the Selena series, and to feel their love and to reach them. The emotions that the series named Selena made me feel could not be described".
Kobal: The most wonderful thing is to dare
Pointing out that what really brings success is not to be afraid and to dare, Kobal stated that "Life is all about experience, what we learn and what we add to ourselves". She also said that, in life, good and bad, success and failure, and the feelings of happiness and unhappiness bring up each other and added that "As an individual who has started to work at such an early age, I can tell you that don't be afraid to try because the biggest obstacle is that we are expected to do everything we do very well at once". She continued that thus, everyone is afraid to make a move and said that "In fact, life is not like that. Life is wonderful when you make a move, try, fall, and get up. The most wonderful thing is to dare and make a move".
Giving advices to the students who want to become actors and actresses, Kobal said that "Be sure to go after your dreams and be brave about it. Take acting lessons because acting is a profession where there is no end to learning, you can always add new things to yourself at any time and you will be a student again and again".
Following the interview which lasted very sincerely, Kobal said that she enjoyed the interview very much and had photos taken with the students. At the end of the interview Kobal was presented with a plaque which represented the Cypriot Culture by Advisor to the Rector Assist. Prof. Dr. Mehmedali Egemen.