Social responsibility example by EUL students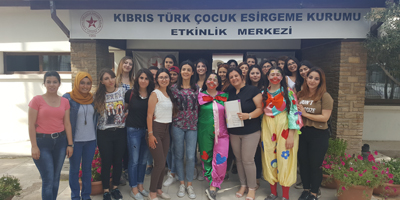 Visit to Nicosia Child Protection Institution                                                                                                                        
A visit was made to the Lefkoşa Child Protection Institution by the European University of Lefke Preschool Teaching Department Student Club.
The Pre-School Teaching Department Chairperson Assist. Prof. Dr. Çağda Kıvanç Çağanağa who provided information about the event emphasized that the aim of the  Pre-School Teaching Department of Dr. Fazıl Küçük Education Faculty is to educate teachers of whom are efficient and sufficient in terms of the requirements of the present era and also raise teachers with enhanced social responsibility and  with the ability to convey cultural values to their students.
Students of Preschool Teaching made samples of traditional Turkish Cypriot children's games for the children in the institution and gave various gifts to the children. In the event, EUL students and children got together to spend quality time.
The teacher who gave the speech at the end of the activity, Süreyya Özkan thanked Dr. Fazıl Küçük Education Faculty Preschool Teacher Department. In addition, Ayşen Coşar, the director of the institution, expressed her gratitude to European University of Lefke and offered to continue such activities.