Student Clubs Introduced at EUL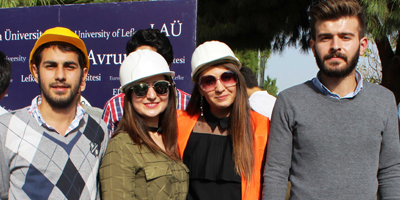 "EUL Student Clubs Festival" organized by European University of Lefke (EUL) Office of Students, Dean took place at EUL Plaza. The clubs introduced their activities and their aims to the new enrolled students and won new club members who can work both individually and as a team, and who has strong social and cultural aspects and high sense of sympathy.
Student Clubs Attract Considerable Attention
In the club promotion activity, where the students showed great interest, the club members had the opportunity to socialize with their new members. Students became members of the clubs in order to learn more about their fields of interest, to develop themselves in socio-cultural and professional terms, to gain the ability to express themselves, to evaluate their leisure time well and to acquire a habit of having fun together.
Students expressed their feelings and thoughts about the Student Clubs Festival;
Gazi Avdal: I am a vice chairperson in the Development in Law and Career Club. Our goal as a club is to differentiate from other clubs. We do this not only by organizing conferences in the field of law but also by organizing virtual contests, legal competitions and knowledge competitions so that we can gain legal development and experience. Thus, we graduate in a more experienced manner with regard to our profession. We thank our university for their support.
Tuğçe Küçük:  I am a second year student in the Department of Preschool Teaching. We thank our school for giving us the chance to set up a club. I am a member of the Magazine Club and it's nice to be here. It makes me very happy that the different clubs come together under the same roof together.
Selahattin Öztürk: As a Special Education Club, we organize events for children with disabilities and invite volunteers to these events. The more members we have, the more people we address. I wish that our club activities that we organize throughout the year will not only involve special education teachers and students, but also our friends and other members of the other department.
Barış Odabaş: I am a third year student in Department of Civil Engineering. I am the president of the Civil Engineering Club. Aim of our club is to contribute to the improvement of our friends who are studying Civil Engineering, and to prepare them to their profession and business life.
Kaan Utku Özçakır: I'm a senior student in the Department of Psychology. I'm president of the Electronics-Sports Club. As we did last year, we are planning to organize award-winning tournaments this year. Electronic sports is among the developing sports in the world. We are planning to work on different initiatives in our school. I am thankful to EUL for supporting us.
Burhan Özgel: As the EUL theater club, we are an active club in the school. Our plays will start in December. We will have a play on March 18th and at the same time we will have nice events in the spring festivities.