Thanks from Chief Physician Hıdıroğlu to EUL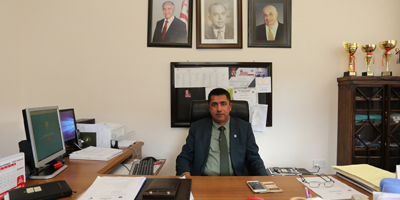 Cengiz Topel Hospital Chief Op. Dr. Zafer Hıdıroğlu made a statement to the European University of Lefke (EUL) Soli News Agency.
Hıdıroğlu stated that he chose to cooperate with all public institutions in the region in order to provide better service to the hospital and the region during his duty for 3 years and gave information about the contributions EUL has made to the hospital. Stating that EUL has made great contributions, Hıdıroğlu stated that various medical devices were purchased for the hospital to provide better service, support was received from various institutions in this context and EUL contributed to the purchase of these devices.   Hıdıroğlu said that within the scope of the cooperation between the university and the hospital, students from various departments of the university were allowed to do internship at the hospital, and in addition to the assistance of the intern students to the hospital, the students had the opportunity to improve themselves by practicing.
Stating that during the pandemic period when the world and the TRNC were adversely affected, Hıdıroğlu stated that there were great difficulties in the fight against the pandemic due to the physical conditions of the hospital, and at the beginning of these difficulties, the suspect people who applied to the hospital should be detected before entering the hospital if they carry corona virus, and in this process, EUL administration is a large container. He stated that he donated and this container was organized as a fire clinic and offered to the public. Stating that the first examinations of febrile patients were carried out in this polyclinic and the corona virus suspects were transferred to Nicosia Burhan Nalbantoğlu Hospital, Hıdıroğlu said, "Therefore, we have protected our patients, our hospital and our region from a possible contamination by not taking patients who can carry corona virus into the hospital." For this important contribution they received during the pandemic period,   Cengiz Topel Hospital Chief Op. Dr. Zafer Hıdıroğlu thanked EUL Board of Trustees Presidents and Members and EUL Rector Prof. Mehmet Ali Yükselen and wished EUL's successful work to continue.