The Culture of Jordan introduced at EUL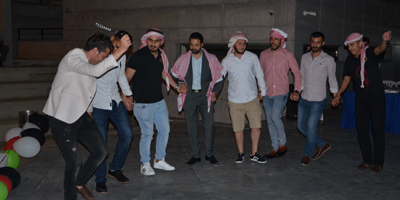 European University of Lefke (EUL) Social and Cultural Activities Centre and International Student Club organized an event named "Introduction of Jordan". The event was attended by many students, especially Jordanian students studying at EUL.
Jordanian students performed different dance shows         
In addition to introducing traditional food, the students performed cultural dance performances with music of their own country in the event, which was held with a great participation in the Social and Cultural Activities Centre.
In the event, students had the chance to meet students from different cultures  
The Jordanian culture night event was organized with the aim of giving students the opportunity to introduce their country, and also provided students with the opportunity to share awareness and culture with their friends from different cultures at the European University of Lefke. The students had fun during the night and created cultural diversity in EUL campus. A special cake was also prepared for the event.