The Dean of EUL Faculty of Arts & Sciences Yıldız shared the unknown of the Famous Poet Asya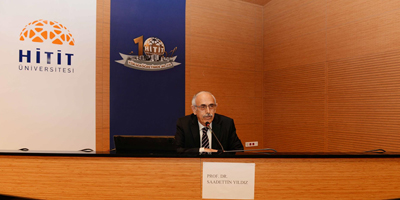 The Dean of EUL Faculty of Arts & Sciences Saadettin Yıldız has been hosted by Hittite University to deliver the audience and commemorate the late famous poet known for his poetry especially on the Flag and Prayers, Arif Nihat Asya, as he has granted both national and spiritual values to Turkish poetry. Yıldız has briefed on the life of the late Poet Asya during the conference entitled "Flag and Prayer Poet Arif Nihat Asya".
Asya, who has been researching on Arif Nihat Asya for about 30 years, said that, "The greatest blessing artisans leave to us is the consciousness of building the future. Yıldız said that the artist perceived the world differently, which is the most important feature that separates the artist from ordinary people. Yıldız expressed that Arif Nihat Asya is a real artist because of all these reasons, as a person who expresses through using the unordinary perception is than an artist.
Yıldız said that Asya has a very humorous personality, who can perceive the truth from a very different perspective, and that he holds an artistic power that can even save the artifacts from a tragedy. Yıldız pointed out that the poet had a variety of reasons for the emergence of this poetry power, and that one of these reasons originated due to the fact that he had met other poets at an early age.
The poet read a rubaie Asya wrote in the 1940's and pointed out that this rubaie had deep traces of the life of Asya. Yıldız also shared the photographs of important documents about poet's life which held the traces of his own handwriting and typewritten texts.
After the conference, Yıldız visited the Rector of the Hittite University, Prof. Dr. Reha Metin Alkan in his office and expressed his satisfaction for his invitation. Alkan also expressed his gratitude to Yıldız, stating that it was delightful to see that the conference was enjoyed by the students and also by the literary fans of Çorum.