The famous actor Burak Tozkoparan at EUL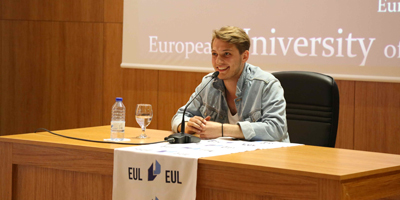 An interview was organized with Burak Tozkoparan, a successful actor within the scope of "May Interviews in EUL" organized by European University of Lefke (EUL). Burak Tozkoparan, who acted as the character of Mert in the movie "Hesapta Aşk", which started his career with the character of Ozan Gürpınar in the "Paramparça" series, came together with EUL students during the interview that took place in the EUL Law School Grand Amphitheater.
Responding to questions from students, Tozkoparan said that he acted in an advertising film with the guidance of his teacher before starting his acting education, then he received and accepted the offer from the Paramparça TV series. Tozkoparan stated that he continued his education life on the Department of Cinema and Television and said that Erkan Petekkaya had taught him during Paramparça TV Series.
Tozkoparan, who advises students who want to be an actor, to sign up for an agency, stated that he wants to take part in projects that he can take with different characters in front of the audience and he has taken the example of Kivanc Tatlıtuğ who takes a different character in each project. In September, Tozkoparan, who was informed that he would start a new line, expressed his desire to play in a movie about war.
Tozkoparan also stated that he was 1st in the Instrumental Music Competition at the 14th High School Musical Contest and that he would like to continue his musical career whilst delaying his music career due to intense working hours during the series. Tozkoparan shared his music experience with EUL students by expressing that he did not play pop-style instrument in music life, participated in competition with alternative rock and was successful.
At the end of the event, Tozkoparan was presented with a commemorative plaque by the Students' Office Dean Özgür Yılmabaşar, reflecting the cult of Cyprus.