The Particulars of the architectural profession were discussed at EUL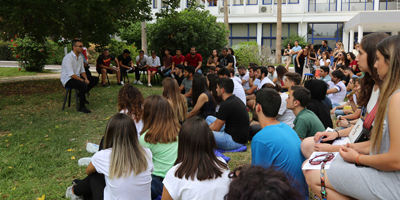 Within the framework of first meeting event of the 2019-2020 Academic Year "New Faces New Experiences" titled event organized by the European University of Lefke (EUL) Faculty of Architecture took place and an interview was held with the successful architect Eren Tümer, who was an EUL graduate, and an exhibition of student works was opened.
Tümer shared with students the issues that they may encounter during their journey of architectural education 
The exhibition, where works produced especially in the spring semester were presented in all departments of the faculty, was evaluated by the visitors in terms of showing the connection they have established with the design in two or three dimensions and visualizing them with different presentation techniques. After the opening of the exhibition, the students had an interview with Architect Eren Tümer. In the interview, Tümer gave examples of his own designs, shared with students the curiosities that they might come across during their architectural education journey and answered questions about the design process.
Touching life, trying to look at life from a different perspective is essential for design
Giving information about the event which lasted for two days, Dean of Faculty of Architecture Prof. Dr. Lerzan Aras said that the two days were fun and instructive for the students who took the first step towards higher education and for the students in the other classes. Aras further said that "Architecture requires lifelong learning. Touching life, trying to look at life from a different perspective is the essential for design. Our students met each other and discovered the different faces of the design. Now they will continue their training to get to know these faces better and they will love them with the knowledge they learn" and added that such activities will continue within the year. Aras added that as the faculty members they would do all they could to make design a part of their lives, rather than letting them to perceive architecture is only drawing in front of a desk.