The second joint event of the EUL Faculty of Architecture – INTBAU was held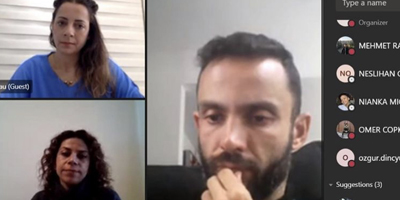 The importance of the reintegration of historical residential buildings in Nicosia to the society was emphasized. 
The second presentation of the European University of Lefke (EUL) Faculty of Architecture and the International Union of Traditional Building, Architecture and Urbanization, (INTABU) – Cyprus, "INTBAU Cyprus-EUL Cultural Heritage Seminar Series" was held on Monday, January 4, 2021 on the online platform. The seminar was held by Master Architect Özge Özbekoğlu, an expert in restoration and conservation, and hosted by EUL, via Microsoft Teams.
Following the opening speech of EUL Faculty of Architecture Dean Prof. Dr Lerzan Aras, President of INTBAU Cyprus Prof. Dr. Özgür Dinçyürek informed the participants about INTBAU. Master Architect Conservation Expert Özge Özbekoğlu presented practices on the reuse and adaptation of the residential buildings in the Nicosia rampart in her seminar. He gave information about the re-functioning of historical residential buildings and their transformation into boutique hotels after renovation. Stating that these transformations have positive effects on the society's perception of the historical environment, Özbekoğlu drew attention to the importance of reintegrating the cultural heritage in Nicosia without damaging the historical texture.
At the end of the event, an interactive question and answer session was held with the intense participation of students and academicians. Organization committee faculty members Asst. Dr. Makbule Oktay and Asst. Dr. Nilay Bilsel and Prof. Dr. Lerzan Aras thanked Özge Özbekoğlu for her participation and valuable information.