The works produced in the EUL Architecture Faculty Design Workshops were exhibited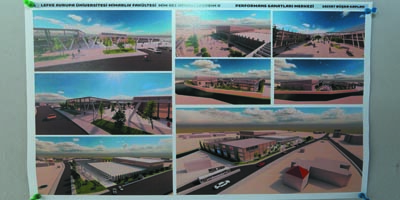 The works of the students were exhibited within the scope of the Architectural Design and Interior Architecture Design workshops of the Faculty of Architecture of the European University of Lefke (EUL). The exhibition held at the Faculty of Architecture attracted great attention. The exhibition was conducted with contributions of  Faculty Member Asst. Prof. Dr. Nilay Bilsel and Research Assistant Ezgi Şaker.
Architecture and Interior Architecture student works in English and Turkish were included in the exhibition.
Providing information about the exhibition, Asst. Prof. Dr. Nilay Bilsel stated that the exhibition of design workshops conducted within the Faculty of Architecture is a source of inspiration for students. Bilsel stated that the exhibition of the projects developed by the students in the fields of Architecture and Interior Architecture belonging to the previous period in the new beginning creates a good opportunity for students to share information.
In the event, the most successful projects of the 2nd, 3rd and 4th grade design workshops were exhibited in the classes held within the scope of face-to-face studio training in the 2021-22 Fall semester. Having the chance to follow the current developments in the fields of design, the participants had the opportunity to meet with the project owners and project coordinator faculty members.