EUL Academician Meriç discussed the importance of physical therapy and rehabilitation in MS patients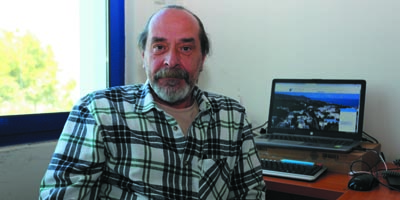 "Physical therapy and rehabilitation are as important as drug therapy in MS patients"
European University of Lefke (EUL) Faculty of Health Sciences, Head of Physical Therapy and Rehabilitation Department Asst. Prof. Dr. Aydın Meriç discussed the importance of physical therapy and rehabilitation in MS patients within the scope of Multiple Sclerosis (MS) disease awareness month.
"MS Disease – Multiple Sclerosis (MS) is considered an unpredictable disease because it affects each patient differently. Some have only mild symptoms, while others may lose the ability to speak or balance, such as walking. MS is a disease of the protective sheath (myelin sheath) around the nerve fibers that carry messages in the brain and spinal cord. It arises as a result of physical destruction on the myelin layer of the spinal cord, which provides information communication between the central nervous system and organs. Hardened tissues (sclerosis) are located where the sheath is damaged. This hardened area is also called a plaque. These plaques can form in many places in the nervous system and may prevent the transmission of messages along the nerves," said Meriç and continued his statements about MS disease;
How Is MS Disease Treated?
MS is a complex disease with no cure. However, it can usually be managed with a comprehensive and strategic approach. A comprehensive treatment plan has three main goals:
1. To slow the progression of the disease.
2. Managing symptoms.
3. To accelerate recovery from attacks in relapse.
What are the Physical Therapy Methods in MS Patients?
Exercise is safe and should be encouraged in individuals with MS. Mildly affected MS patients require longer training programs to achieve aerobic cardiovascular benefits. In more severely affected MS patients, a program should be established by structuring and supervising aerobic exercises very well in terms of maintaining fitness rather than improving cardiovascular fitness.
Exercise programs
Beneficial exercises for the early-stage MS patient include exercises using a treadmill, rowing machine, or any stationary bike, strengthening exercises, balance training, and stretching exercises. In general, the program should progress according to the tolerance level of the individual. The goal of physical therapy in the early stages of MS is to help you perform all your normal activities.
As MS progresses, further disability can occur. Research in the field of physical therapy has shown that completing different exercise programs benefits MS patients in many areas. Aerobic exercise, which can be performed using equipment such as an elliptical, treadmill, or stationary bike, can improve your leg strength, gait and exercise endurance, balance, and mood.
General strengthening exercises
Other types of exercise therapy include general strengthening, balance training, stretching activities and relaxation techniques for the arms and legs. This type of exercise has been shown to improve walking ability, leg strength, and overall balance during normal activities.
Exercise approaches such as aquatic exercises, pilates, tai chi and yoga are among the approaches that can be effective in reducing the symptoms of MS patients.
Meriç said, "Physical therapy and rehabilitation are as important as drug therapy in MS patients. The symptoms that occur in patients can be prevented with effective physiotherapy, as well as reduced. Working with bars and other assistive devices increases the self-confidence of many patients," he added, adding that MS has become a disease that is easy to treat and control today.