Theatre Play named "Meraki" performed at EUL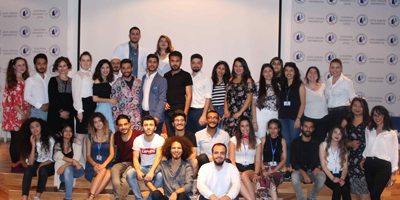 "Meraki" named theatre play organized by European Univeristy of Lefke (EUL) Office of Students' Dean and Theatre Club was performed at Rauf Raif Denktaş Conference Hall.
The Play was organized in order to amuse the students
The comedy play which was written by Jean Baptiste Poguelin Moliere and adapted in to a theatre play by Ahmet Vefik Paşa as one-act comedy was performed to the students with the directorship of Enes Talha Saraç. The play's dramaturge was Öykü Gül Seçkin and the players were as follows; İlayda Nakış, Furkan Korkmaz, Hüseyin Parlak, Beyza Tektaş, Özlem Bayer, Meryem Çelik, Halil Basün, Bayram Alkan, Yağmur Ermiş, Nilay Üstündağ, Arif Temiz, Rauf Kurnaz, Yunus Emre Özçelik and Burak Şahan.
Seçkin: "Meraki" attracted intense participation
Giving information about the event, head of EUL Theatre Club Öykü Gül Seçkin said that EUL theatre club which is among the active clubs of the EUL won the appreciation of theatre lovers with the plays they performed. Seçkin said that the group with performed the play with the participations of students from different departments and added that they choose the "Meraki" named comedy play adapted by Ahmet Vekif Paşa and written my Moliere. Seçkin also said that they have adapted the play to today and performed it with 13 players. Seçkin emphasized that "Meraki" attracted intense participation and added the play won the appreciation of theatre lovers.
Furthermore, besides the advertising of "Meraki" play at the entrance of the hall, the events prepared by the EUL Theatre Club throughout the 2017-2018 academic year were also presented.