Traditional Cyprus Dish "Magarına Bulli" was served to the Students at EUL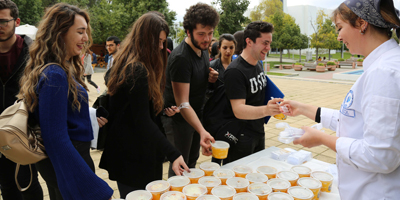 The second of "Magarına Bulli" event which was organized by the European University of Lefke (EUL) was held at the campus of EUL. Magarına Bulli (Pasta with Chicken) which is one of the essentials of the Cyprus Cuisine was served to the students at EUL.
Magarına Bulli, prepared by the students of the Department of Gastronomy in the application kitchen of the University, was served to the students as hotter in the stands established at different points of the EUL campus.
Students visiting the stands within the framework of the event expressed their thoughts as follows;
Ramazan Topaktaş: I'm a first year student at the Medical Laboratory Department. I'm from Osmaniye. It was a very nice event for new students coming to Cyprus, because of these activities we have the opportunity to taste the local products of Cyprus. In addition, this kind of activity enables students to socialize.
Beyza Karagöz: I'm a third-year student at the Department of Social Work. I'm from Antalya. I would like to thank the University for offering this delicious taste of Cypriot cuisine with an activity held before the exam week.
Çiğdem Yıldırım: I am a third year student at the Department of Nursing and I am from Gaziantep. It's a nice event, thanks to this event I had the opportunity to taste a meal that I had never heard of before. It is very nice for our school to organize such activities, I like it. I've tasted many dishes I've wondered because of these activities.
Eda Coşkun: I'm from Adana. I was very curious about this meal, and thanks to this event, I've enjoyed it. It is a very good thing to taste cultural food and it is a great advantage for us that our school to organizes such activities.
Abdullah Dönmez: I'm from Manisa. Thanks to these kind of activities, a nice opportunity was provided for friends who did not taste the flavors of Cyprus.
Fırat İnç: I'm a second year student at the Department of Gastronomy. I'm from Izmir. I liked the this traditional dish which was prepared in our kitchen. I would like to thank EUL for organizing this event.