Turkmenistan Independence Day celebrated at EUL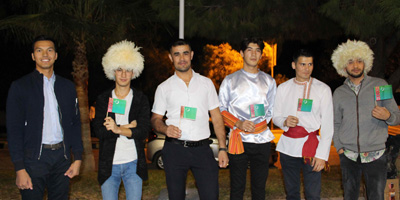 Colorful performances were exhibited at the night with cultural music
"Turkmenistan Independence Day" activities were held at EUL with the contributions of European University of Lefke Student Deanery and International Students Club for the Turkmenistanian students of EUL. Colorful performances were exhibited at the night with cultural music. Students of EUL especiall Turkmenistanian ones, staff of EUL Students Deanery and Directorate of External Relations attended the event.
The event took place with intense participation
The event which took place at EUL plaza with intense participation started after the performances of National Anthems. The night proceed with the video presentation that showed the establishment history, cultural and natural beauties of the Turkmenistan. Apart from introducing their local dishes and cultural clothes, the students had the opportunity to perform dance and poem performances accompanied with cultural music and to celebrate their national day with enthusiasm.
The students who stated that they were happy to meet on the Independence Day of Turkmenistan expressed their feelings and thoughts as follows:
Renat Kadyrov: I'm a second year student in the Department of Computer Teaching. I am very excited to celebrate our Independence Day at University and to introduce our country, our food and our clothes to our friends. Our university is very supportive of us, we would like to thank our university.
Amina Mukhambet: I come from Kazakhstan. I'm a senior at the Department of Business Administration. Turkmenistan is very close to Kazakhstan and our cultural features are very similar. I like the kind of activities that our university supports. It was a very nice event, unique to Turkmenistan. They had the opportunity to introduce their country to the other students.
Azim Akmamedov: I'm a senior student at the Department of Radio Television and Cinema. Turkmenistan's Independence Day is a very important day for us. Cultural program, clothes, dances and poetry recitals took part in the event's program. I would like to thank to our university for giving us the opportunity to introduce our culture to our friends in the night.
Beyza Şipal: It is very important for us that EUL to supports the celebrations of these days, and our university is very sensitive. There are many different cultures in our university, the introduction of such events and cultures is very important for us to be informed.