Various Activities are being held within the scope of EUL Orientation Week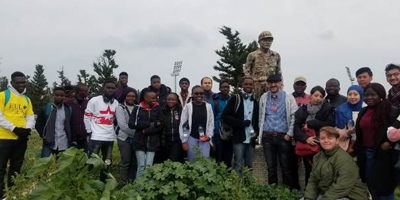 The orientation days organized by the European University of Lefke (EUL) Centre for Social and Cultural Activities for the newly enrolled students in the 2019-2020 Academic Year has started with the welcoming of new students from Ercan Airport placing them in their dormitories by EUL orientation team.
Many Activities will be held for the newly enrolled students
Within the scope of the "2019-2020 Academic Year Spring Term Orientation Program, many cultural and sporting activities will be held in order to facilitate the adaptation of the new students participating in EUL to the university and the TRNC and to enable them to recognize the units of the university.
Students had the opportunity to get to know the region with guides
In 3 different stations established on campus, new students are informed about many issues, and students are given consultancy service to complete their registration easily. Within the scope of the Trip Activities, students who visited Lefke Region on 14th of February, had the opportunity to see many cultural riches in place and to recognize the environment.
During the Cyprus and International Culture Night, which will be organized within the framework of the orientation program where many activities will take place, students will be presented with different country-specific dishes and cultural shows will take place in the program.