Workshop on "Current Approaches in Physiotherapy" held at EUL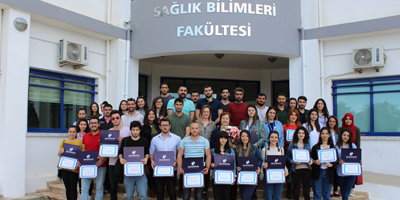 Students conducted Practical Applications on a Model
Workshop on "Current Approaches in Physiotherapy" held at EUL
European University of Lefke (EUL) Faculty of Health Sciences Department of Physiotherapy and Rehabilitation organized a workshop on "Current Approaches in Physiotherapy".
The workshop which took place at EUL Faculty of Health Sciences Department of Physiotherapy and Rehabilitation Treatment Exercises Laboratory lasted for two days. Prof. Dr. Nuray Kırdı attended the workshop as a trainer. Graduate and 4th year students of the Physiotherapy and Rehabilitation Department attended the workshop which was conducted with examples and practices by the trainer. "Electrical Stimulation Principles" and "Electrodiagnosis and Application" subjects were analyzed under the heading of "Electrical Stimulation Principles in Physiotherapy" at the first day of the workshop and "Geriatric Rehabilitation Assessment" and "Treatment Approaches" subjects under the heading of "The Role of Physiotherapist in Geriatric Rehabilitation" at the second day.
Kırdı: Knowing and applying current application methods are important for physiotherapists
Kırdı pointed out that, knowing and applying current application methods are vital for physiotherapists in terms of preventing complications that can occur after nerve injuries due to several reasons, maintaining normal joint mobility, protecting muscular tonus, and obtaining maximal functionality in nerve healing process. In this respect, important parameters (characteristics, tissue impedance, density, frequency, transit time, intensity, polarity of the current) for achieving targets in electrical stimulation of muscle or nerve tissue were examined and the effects of electric current on the cellular, tissue, segmental and systemic levels were audited with the participants. In the workshop, the methods of practice were demonstrated via practical application by discussing on the example which was conducted as another participant practicing on one of the participants and the application of neuromuscular electrical stimulation and their physiological mechanisms of action were investigated.
Kırdı: It is possible to observe some general health issues in the elderly
Kırdı stated that as a consequence of the prolongation of human life today, some general health issues are observed in elderly and added that at least 1 chronic disease is observed in 8 out of 10 people over 65 years old, and chronic health problems observed in the group of people over 65 years old in Turkey are; 1 in 90%, 2 in 35%, 3 in 23%, 4 or more in 15%. Kırdı said that, "In such situation, approaches such as staying active, getting healthy habits, getting information about the disease, regular doctor control, and regular exercise training under physiotherapist control are important,".
For this reason, changes in body systems such as musculoskeletal, nervous, cardiovascular, respiratory, gastrointestinal, urinary, endocrine, and sensory systems that occur due to aging; definitions, evaluation and treatment principles and sample exercise programs of the most common Geriatric Syndromes such as osteoporosis, immobilization, incontinence, depression, delirium, dementia, drop, pressure sores, sarcopenia and fragility; physiotherapy and rehabilitation approaches used to evaluate the elderly and assessment parameters for some diseases such as Parkinson's disease, osteoporosis and foot problems were discussed at the workshop.
Furthermore, the effects of physical activity and exercises on body systems, the features of exercises practiced in the elderly and exercise techniques for these exercises, exercise types for chronic diseases, exercise prescriptions for low, middle and high risk groups; contraindications of exercises and termination criteria were discussed within the frame work workshop. In the workshop environmental hazards and precautions that must be taken in terms of prevention of falls and fractures in elderly people living in nursing homes or in their own homes were also discussed.
Certificate was given to the all students who participated in the workshop which lasted for two days.