Book donation from EUL to Lefke Gazi High School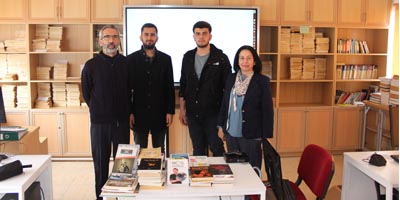 Books were donated to Lefke Gazi High School for the ""58th Library Week" by the European University of Lefke (EUL).
EUL Ertuğrul Apakan Library Director Alev Lort and Library Club students visited Lefke Gazi High School to donate books to the Lefke Gazi High School (LGL) library and met with Lefke Gazi High School Deputy Principal Nihat Cemoğlu.
Lort, who delivered the books consisting of various publications that will serve as a resource for the education of the students for use in the school library, stated that they are extremely happy to donate books as the EUL Library due to the "Library Week" as well as carrying out events celebrated to gain the habit of reading books and to raise awareness.