Commemorating the 23rd anniversary of the Rwandan genocide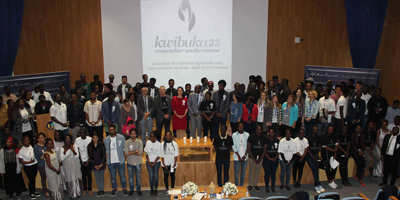 The memorial program was held on the 23rd anniversary of the Genocide of Ruanda by European University of Lefke Students' Dean Office and Rwandan students.
The commemoration program at the EUL Law School Great Amphitheater Hall started with a moment of stance, the National Anthem Turkish Republic and the reading of the National Anthem of Rwanda.
European University of Lefke Vice Rector Prof. Dr. Carolina Smochina spoke at the event, stressing that that she had first witnessed this sad event in Rwanda on TV in 1994, and had visited Rwanda's Kigali city in 2014. Smochina said that Rwanda is a very beautiful country, and that people are also welcoming.
On such a day, Smochina said that she was extremely pleased to come together under one roof with Rwandan students from various universities of the TRNC and to host such an activity as European University of Lefke, expressing the same sentiments to all students on this special day.
In the event where the video about genocide was screened, the students shared their thoughts, revived the genocide with the theater and read poems and made good wishes about the future.