"Educating Families of Visually-impaired Children" addressed at EUL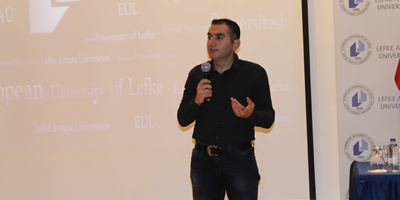 Use of other senses of visually impaired child must be ensured by the family
European University of Lefke (EUL) Education and Research Center for Children with Special Needs (ÖÇEM) organized a conference themed "Educating Families of Visually-impaired Children". Assist. Prof. Dr. Salih Çakmak, Academician of Gazi University Faculty of Education Department of Special Education attended the conference as a speaker.
Çakmak said that "Self-care skills are very important for children with normal development or inadequacy to step into independence. Skills such as eating, dressing and toileting are considered basic self-care skills, while tooth brushing and bathing are considered as more complex self-care skills". Çakmak also said that children who show normal development acquire their daily life skills by taking advantage of the available educational opportunities or by modeling their mothers, fathers and friends and added that since children who suffer from visual impairment cannot do observation directly, they also learn self-care skills later in comparison to their peers.
Parents have a great responsibility
Çakmak said that "The family should ensure that the child is actively using other senses other than sight in every stage of development that the visually impaired child will undergo" and added that when the children learn to actively use other senses other than sight it is easier for them to adapt to the life. Çakmak also emphasized that parents should never forget that they have a great responsibility in ensuring the usage of other senses.
Çakmak said that these abilities which are acquired in the young ages have an important positive effect on the school life of the child and on becoming an independent individual in the society in future and added that acquiring daily life habits is very important for visually impaired children. Çakmak said that a training program for self-care and daily life skills must include; personal hygiene, dressing, folding of clothes, food preparation, eating, money recognition and use, social communication, telephone use and use of time and added that the natural acquisition of these skills in children with visual impairment is difficult and risky. Çakmak also said that "Visually impaired children need guidance from their parents or carers to learn many of these skills" and added that this guidance should be mutually determined by the family and teacher according to the type, grade, age, needs and developmental characteristics of the child's disability.
Çakmak stated that visually impaired children take a long time to gain self-care skills when they are not trained about self-care and daily life skills from an early age and added that if the person in the family who takes care of the child meets the child's needs for self-care and daily life skills such as eating, dressing and dressing, visually impaired child falls into a passive situation. He also said that "The possible cause of this situation is the idea that the person who takes care of the child in the family has a hard time to get a response from the child or she/he thinks that it is his /her duty o to fulfill these skills due to child's insufficiency", and added that the passive situation of the child in the process of guidance of his/her mother is also an obstacle in the way of strengthening his / her psychomotor skills. Çakmak further stated that the children who are visually impaired can perform these skills later when compared to their peers and in this concept he emphasized the importance of educating parents considering the fact that parent are the first educators of the child.
Developing the skills learned at school by parents is of importance
Çakmak said that "In order to increase the chances of children becoming more productive and successful; it may be important to concentrate on the issues children need, to attract the attention of parents and to increase the rate of utilization in planning parental education" and added that the facts that parents know their children better than other people and spend more time with their children than an expert and developing the skills learned at school by parents is proved to be efficient are the views that supports the importance of educating parents. Çakmak finally said that the family education services provided to enable parents to actively participate in the education of their children include systematically conducted activities to enable parents to achieve specific goals related to their children and stressed that the idea of providing the knowledge and skills that would enable to play a role in providing or enhancing the treatment of the child is the basis of family education.