EUL Academician Çam; Woman, in many countries, is in a constant struggle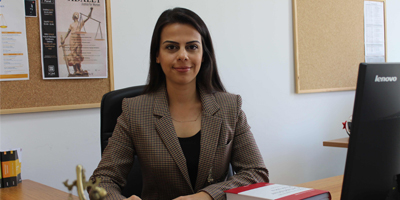 European University of Lefke (EUL) Faculty of Law Department of Commercial Law Academician Gülçün Çam made a statement on the occasion of "March 8, International Women's Day".
Giving information about the tragedy which is the cause of the International Women's Day, Çam said that, "In New York in 1911, the strike started by the staff of Triangle Shirtwaist Factory, whose workers were mostly young immigrant women resulted with a fire which caused the deaths of 146 garment workers – 123 women and 23 men,". Çam emphasized that this painful event that occurred after the disproportionate intervention of the police against workers who work together to announce their voices with the demand to reduce working hours and increase wages, and obstacles of police which did not allow the workers to escape from the fire in the factory has never been forgotten since then.
Çam stated that a society can only approach the level of contemporary society, if the woman is able to fully benefit from the rights granted to her on both the national and international platform, in civil, social and political terms. Çam stated that woman, is in a constant struggle in many countries where they are exposed to physical and psychological violence, sexual harassment and assault cases, and they are described as provocative elements whose labor is not valued in work.
Çam said that, "If we look at the history of societies that are perceived as modern or are modern, how many women have been presidents until the 21st century?" and added that this problem is an example of women being held in the background with sexist actions and discourses.
Çam: Women and men have equal rights. The State is obliged to ensure this equality
Çam pointed out that women and men equality is only possible by preserving and developing the achievements provided to women by Republic Revolutions, and preventing sexual discrimination with educations starting in family.
Çam said that, "With the wish of a world for women where the balance of goddess of Justice is never loss, gender equality does not lead to doubt in the acquisition and use of rights, and gender is not a matter of debate, Happy International Women's Day,".