EUL academician evaluated workplace environments necessary for disabled persons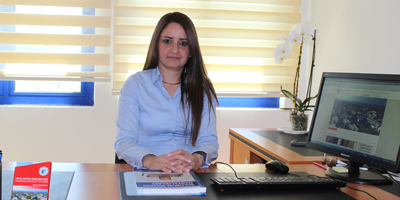 European University of Lefke Faculty of Health Sciences Physiotherapy and Rehabilitation Department academician Assist Prof Beliz Belgen Kaygısız discussed the workplace environments of disabled people and emphasized that providing employment and including them to the business life as active producers is the foremost step of reintegrating disabled people into the society.
Kaygısız stated that the level of the development of a country is directly related with the level of social welfare of the people living in that country and that another important indicator of countries' development measures is the level of welfare and quality of life of people with disabilities living in that country.
Kaygısız said that; "Employment has a fundamental impact on the economic independence and on the improvement of life quality and social integration of persons with disabilities" and added that the most important way of making people with disabilities a productive person nowadays is increasing their employability and giving them a chance to take part in a working life as active producers.  Kaygısız stressed that, in the countries which the matter is newly beginning to develop, most of the employee disabled persons are employed without being evaluated to determine their capacities, without being taken into vocational rehabilitation programs and without considering ergonomic risk factors.
Kaygısız pointed out that in order to employee disabled persons their capacities should first be evaluated and she also said that this capacity evaluation is conducted with several different methods. Kaygısız stressed that job analysis should be done to decide whether a person with a disability should be placed on a job course or job after evaluating the physical and cognitive requirements of the job.
Kayısız stressed that "Being employed or having a job is an important determinant of life quality. However, unsuitable working postures in jobs requiring intense labour force cause inefficiency as well as musculoskeletal disorders. The life qualities of physically handicapped people who are negatively affected by workplace conditions physically and emotionally and cognitively are affected negatively." After touching upon the importance of harmonizing the workplace and environment and equipment to ergonomic conditions, she pointed out that working in an environment with minimalized ergonomic risk factors, respecting the job and being good at what they do are all important steps in creating a workplace environment for disabled people.
Kaygısız emphasized the need to use ergonomic risk analysis to determine the ergonomic risks in the workplace and stated that the method of assessing the work postures of a worker who has an important place in business is a method used to prevent work-related musculoskeletal problems. Kaygısız finally said that "The assessment of risks such as the use of hand-related equipment, physical energy loads, musculoskeletal system loads, computer use, environmental conditions, general workplace, tools or tools, gloves, management are also important in creating a suitable work environment where one can exhibit knowledge and skills."