EUL Academician Türkeri touched upon the subject of "Environmental Factors in Cancer Formation"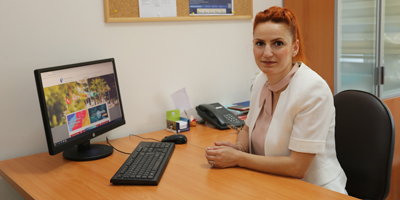 European University of Lefke (EUL) Faculty of Health Sciences Department of Nutrition and Dietetics Lecturer Asst. Prof. Dr. Özge Nur Türkeri made statements on the subject of "Environmental Factors in Cancer Formation".
"Cancer is defined as a disease that develops as a result of the abnormal proliferation of a cell that has undergone a change with the loss of control over the mechanisms that ensure normal growth and differentiation. Studies have predicted that cancer, which ranks second among the causes of death in the world, will progress rapidly until 2030, "said Türkeri, and stated that genetic and environmental factors play a role in the development of cancer. Stating that the possibility of cancer occurrence through inheritance is much less than environmental factors, Türkeri said, "There are many environmental factors that increase the risk of cancer, but the most important and main ones are; "Chemicals, radiation, dietary habits, use of harmful substances such as cigarette alcohol, the geography in which we live can be counted as infections".
70% of cancers caused by chemical factors are caused by chemicals such as mothballs, pesticides, coal dust and exhaust smoke.
"The state of chemicals that increase cancer risk is closely related to many variables, from the general health of the person to the type, quantity and exposure time of the chemical. Saying that 30% of cancers caused by chemical factors occur with active or passive exposure to tobacco-based chemicals, 70% are due to chemicals such as naphthalene, pesticide, coal dust and exhaust smoke "Türkeri continued her words as follows; "However, it should not be forgotten that the precautions to be taken when exposure to chemicals are detected and the termination of contact with chemicals have a primary effect in stopping the formation of cancer."
Stating that another factor that triggers cancer type, especially skin cancer, is radiation, in other words ultraviolet rays, Türkeri said, "People who are exposed to high-dose X-rays for a long time are considered within the scope of cancer development risk."
Wrong eating habits are also one of the causes of cancer development.
"Incorrect eating habits are also one of the other causes of cancer development in recent years. Consumption of excessive amounts of fat and fatty foods, insufficient pulp consumption, alcohol, meat exposed to high and close fire, etc. It is known that excessive consumption of food consumption, salted, smoked, smoked foods increase the risk of bowel, breast, stomach, esophagus cancer. Scientific researches show that adopting a healthy and regular nutritional habit reduces the risk of cancer formation and that the consumption of fruits and vegetables at the recommended level prevents various types of cancer thanks to the antioxidants and pulp structures it contains. She also added that following the general suggesstions stated below will be beneficial;
• Avoid exposure to excessive sunlight
• Regular control of body mass index
• Reducing alcohol and tobacco use
Regular physical activity
• Not to disrupt routine screenings such as breast over 40 years of age and colon above 50 years of age.