EUL hosted two special guests on the occasion of Disability Awareness Week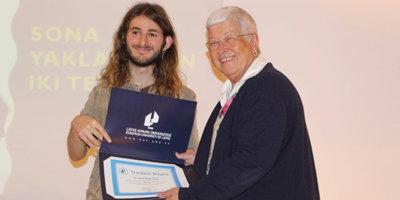 European University of Lefke (EUL) Education and Research Center for Children with Special Needs (ÖÇEM) organized an interview themed "On the Roads" on the occasion of Disability Awareness Week. Under the framework of the interviews of two physically disabled people (Cerebral Palsy) Ayşe Seben Dayı and Serim Berke Yarar were hosted by EUL.
The duo who explained the project themed "On the Roads" which was about a half month trip they made on the summer of 2018 to the southern coastline of Turkey and pointed out the aims of the project as showing that all individuals can be on the roads, primarily to individuals with special needs, and to many people facing life hesitantly; proving that two disabled people can travel alone and on the other hand reflecting the perspective of the people that they came across in the course of their trips and the accessibility of the places they went through.
Anybody can do anything if they want to and try hard enough
Within the scope of their projects, the couple who hitchhike almost half of the coastline between Mersin and Çanakkale said that they intended to present a collection of stories by combining the dialogues with the vehicle owners, who had taken their hitchhike journeys along the road, by combining their own attitudes and behaviors with their observations. Journalist, Anthropologist and Instructor Seben Ayşe Dayı and Engineer Musician Serim BerkeYakar said that they wanted to explain their road stories, the events that happened in everyday life, to open the doors of the disabled awareness, to show them different cultures, different lifestyles, and to give the idea that ın if anyone wants and can do everything, they can do anything.
In two hours, the speakers gave information on what they went through in their hitchhiking tour which is difficult to do in Turkey, the oppressive attitude of the surrounding people with their overprotective approach, and said that sometimes even their families could not provide enough support for what they could do. They also expressed with their most sincere feelings that in spite of all these difficulties they have accomplished what they wanted. They finally said that "If our body had a separate brain, we would argue with it that we could not control it as we would like. We give the biggest struggle with our own body" and explained the struggles they went through and how they overcame these struggles.