EUL students were fascinated by the natural beauties of Yeşilırmak and Bademliköy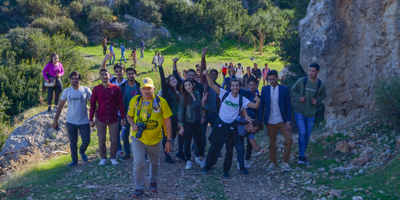 European University of Lefke (EUL) Centre of Social and Cultural Activities and Nature Club organized a nature walk event aimed at students. The nature walk event, which aimed to introduce students to the beauties of the region, to create regular sports activities and to increase students' love of nature, was held with intense participation.
Vuni Palace was visited under the framework of trekking
In the nature walk, students had the opportunity to see natural beauties by walking from Bademliköy Region to Yeşilırmak accompanied by a guide. Students walking for 8 km, visited the orange, tangerine and flower gardens in Yeşilırmak. In addition, students visited Vuni Palace and received information about its history.
The students stated that they had a great day thanks to the walk that they had the opportunity to discover natural beauties directly, and that they visited the historical and natural beauties of the places within the scope of the program.