Example Projects from EUL Students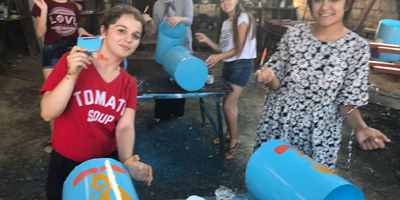 Students of European University of Lefke (EUL) Dr. Fazıl Küçük Faculty of Education conducted many successful social responsibility projects and set an example with their projects titled "Clean Environment Clean World", "One Flower One Human" and "Colorful Stations" within the scope of their Community Service Practices course and with the leadership of their course instructor Assist. Prof. Dr. Özcan Palavan.
"Clean Environment Clean World"
Giving information about their projects, Palavan said that, in their project titled "Clean Environment Clean World", the students tried to created awareness with the slogan "Don't throw it on the ground, shoot a basket". Palavan said that, under the framework of project, students designed a waste bin in the shape of basketball hoot and added that they conducted their project with the aim of encouraging individuals to become more willing in a more fun way in terms of throwing their waste.
Palavan stated that, under the framework of the project, students set up waste bins that they designed to several places of Lefke Region. Palavan also pointed out that, the students conducted example projects with the goal of ensuring environmental cleanliness and making sure that it is passed on to future generations which are among the general principles of Community Service Practices.
"One Flower One Human"
Palavan pointed out that, in the projects titled "One Flower, One Human", the students made their projects by putting flowers on the Gemikonağı beach's lighting poles in order to create areas that will be calm, relaxing and enjoyable for people, to provide aesthetic and pleasant appearance, to attract interest to places worth seeing, to focus attention on cleanliness and environmental regulation. Palavan stated that the students were contributed to the environmental arrangement of the beaches with the flowers they planted and added that positive comments were received at the end of the project titled "One Flower One Human" and that students were able to draw attention to environmental regulation.
"Colorful Stations"
Palavan expressed that, with the project titled "Colorful Stations", the students are worked in a self-sacrificing way in order to make some stations better and more colorful and added that due to the positive effect of the green color on the human psychology, the stations were painted into green color. Palavan stated that since the students wanted to produce this effect, the maintenance of the stations were done by the students. Palavan congratulated all the students who demonstrated such successful projects and gained recognition for their exemplary behavior.