"Handwash Awareness" Campaign from EUL Nursing Students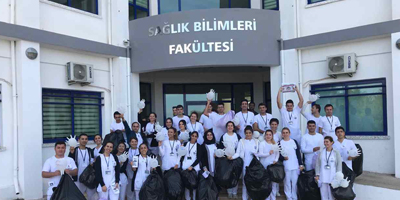 "Healthy Life is in your Hands"
4th grade students of European University of Lefke (EUL) School of Health Nursing Department organized a "Hand wash Awareness" campaign.
Giving information about the campaign, Head of School of Health Prof. Dr. Deniz Şelimen said that the campaign was conducted in order to give information and crate awareness about hand washing by 4th grade students of Nursing Department at the campus with the slogan of "Healthy Life is in your Hands". Şelimen expressed that with this aim students distributed brochures and balloons and offered interactive education in order to attract attention to the importance of hand washing, and added that the campaign which lasted all day long attracted great attention within the campus.
Şelimen said that, "One of the basic rules is to wash the hands in the right conditions in order to create healthy environment conditions and to remove and neutralize disease-causing factors". Şelimen pointed out that as a result of people not having a hand washing habit or ignoring it; it is not possible to prevent infectious diseases, foodborne infections, diarrheas contaminated at schools, parasites transmitted by toilets, bacterial and fungal infections.
Şelimen said that "For the healthy life that we all desire, the protection and development of our health, which is our most important treasure, is not really difficult" and added that the campaign that they have organized is an important health service in popularizing hygiene applications and increasing awareness on this matter.