Training Professional Labour Force aimed at Elderly is of Great Importance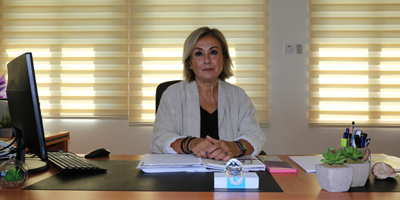 Dean of European University of Lefke (EUL) Faculty of Health Sciences Prof. Dr. Şengül Hablemitoğlu made some statements on the occasion of October 1st – International Day of Older Persons.
Hablemitoğlu said that General Assembly of United Nations declared 1st of October as the International Day of Older Persons in 1990 and added that "Accordingly, in 1991, the General Assembly adopted the United Nations International Elderly Principles by resolution 46/91. In 2002, the World Assembly on Aging adopted the Madrid International Aging Action Plan to respond to the opportunities and challenges of the 21st century population and to support the development of society for all ages. Since then, member states have been trying to implement their own action plans".
Approximately 700 million people around the world are above the age of 60
Hablemitoğlu said that "The theme that the United Nations has set for World Seniors Day 2019 is a theme that points to social change all over the world. This year, it has been determined as "the journey of age equality" in line with the principle of leaving no one behind" and added that aging is a long journey of life, and equality journey is a separate struggle for all population groups and a journey with completely different characteristics.
Pointing out that approximately 700 million people around the world are above the age of 60, Hablemitoğlu said that by 2050, 20% of the world's population, about 2 billion people, is estimated to be 60 years and older. She also stated that the increase in the aging population is expected to be large and rapid, especially in the developing regions of the world and said that "For example, it is estimated that Asian countries will be the countries with the most elderly population and the highest growth rates in the elderly population will be found in African countries. With this in mind, we are faced with the responsibility to focus more on specific needs and challenges in health, social and cultural life that many elderly people face and to find solutions".
A healthy elderly population is an important determinant of social contribution and participation
Hablemitoğlu further said that "An equally important issue is; the invisibility of the contribution of the elderly to the functionality of the society and the inequalities they experience" and added that in the context of human rights, these inequalities brought about by demographic change are an important area of struggle for sustainable development, and every effort must be made to achieve equality for the population over 60 years which is expected to reach 1.4 billion by 2030.
Hablemitoğlu also said that "Being healthy in old age is an important determinant of quality of life, satisfaction with life, productivity, contribution to society and participation.  There is an increasing need for reducing factors such as health inequalities, inadequate home care services. On the other hand, specialized institutional care services, and elderly care insurance system that will provide elderly care financing and that will facilitate the care of chronic diseases, such as dementia, Parkinson's, Alzheimer's, affecting the elderly should be given more importance" and added that therefore, it is very important to know that there is a need to develop service models for the elderly and to train labor force from the professional groups forming the professional team to provide these services in Turkey and the T.R.N.C.